Yesterday, the 3rd Webmaster Conference and the 2007 China Webmaster Forum were held in Xiamen. More than 600 webmasters with an average age of less than 28 years gathered together. Our journalist interviewed three of the elites with representative experiences and unique opinions.
Dressed in a black suit, with long and medium-sized hair style, Lin looked like a Hong Kong star. Although he is only 27 years old, he has worked in IT industry for half of his life so far and now is the webmaster of a personal website called P.CN. He just updated the exciting moments of the conference on his blog, and now is sharing his life story with us.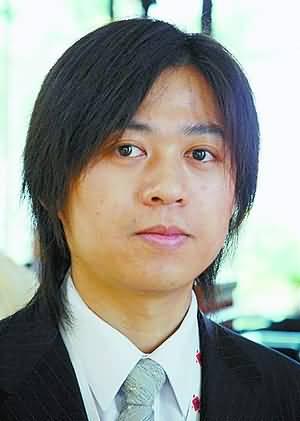 Lin Xinglu (photographer: Su Yuan)
Lin dropped out of school at the age of 13, but four years later, he became a well-known network engineer of InfoHighway Shenzhen Branch. And two years later, he became the network engineer of China Motion Company.
When Lin dropped out, his father, a hydropower worker in Shenzhen, bought him an expensive 386 computer (6700RMB) for self-study, which his mother was strongly against. She thought it was luxurious to let a kid play computer games when they lived in a survival level of life. But his father was determined to do that, which was crucial in fostering their genius son. When Lin remembered the scene that his parents fought for the computer, his heart was filled with gratitude. "If my dad didn't buy that computer, I would never reach where I am standing now."
It was the beginning of his IT path. In 1994, Lin found an oasis in domestic market, Kingsun WPS system. Inside the software of WPS, two names jumped out to him: Qiu Bojun and Li Ming. They are programmers. It would be phenomenal to develop good software that others could see your name when then use the system, which inspired him to have his initial career plan at the age of 14.
Actions speak louder than speech. He studied dozens of materials, books and magazines on IT, including assembly language, C programming language, etc. He took every chance to advance his programming skills. When there were some short source programs published in newspapers and periodicals, he would type them into his computer, debug, compile and change them into his programs, in which he gradually mastered programming well. Half a year later, he began to write his own small programs and software, and took them to the computer counters of Shenzhen Saige Market, selling them. To his surprise, some people did buy his works when he was at such an early age.
In January, 1997, Lin started using Internet. There were not many netizens at that time. Lin got acquainted with one of them who turned out to be someone influenced his rest career pathway. That is Song Yizhi, general manager of InfoHighway in Shenzhen branch. One day, Lin sent Song a message through WorldGroups client software of InfoHighway, telling Song that he was looking for a job and maybe he would go to a computer company in Shekou. Surprisingly, Song offered Lin to his company, InfoHighway. It was like a great blessing from God that this teenager who even hadn't finished junior high school could work in such a famous national company.
In 1997, 17-year-old Lin entered marketing department of InfoHighway. InfoHighway's dedicated client program was developed by themselves and when there may still exist some errors, he was appointed to check the program. After a whole day checking, he wrote all the cases into a report to the CEO. Then the company used the Update program he wrote.
Soon later, he became a network engineer in the operation department. The operation department is the highest technical department of each branch. In addition to daily work, he often developed some CGI programs at the same time.
In 1999, Lin transferred to Beijing China Motion Development Center and began his journey in Beijing. He strove for the development in this new platform.
Now, as the webmaster of the new personal website, Lin provides the most easy-to-use software to the netizens. Even though he started a new career, he thinks there is still a big progressive step to go in the future. He was regretful for not being in university before, but he is constantly learning some more pertinent and practical knowledge on IT himself. "In fact, interest is the best teacher. People will put every effort on what they truly love." Lin said.
From: Xiamen Daily (April 21, 2007)